Montana Motorcycle Accident Lawyers
Motorcycle Accident Claims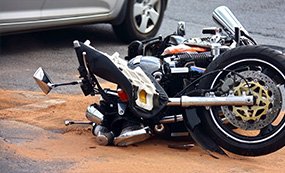 Motorcycle accident litigation differs quite a lot from car accident cases. First, your attorney has to neutralize the widespread assumption that the motorcyclist was probably riding irresponsibly, first with the claims adjuster and later perhaps with a trial jury. Next, the serious injuries typical of a motorcycle crash mean that you might well have to find sources of compensation in addition to the other driver's insurance coverage.
We are able to reach the scene of a motorcycle accident with a team of investigators anywhere in the state right away. Our senior investigator is an experienced motorcycle rider who knows what to look for in both the physical evidence and the police reports. Our advice in the immediate aftermath of a serious accident can go far to preserve essential evidence and protect your interests in a fair settlement or jury award.
On This Page
Work With Attorneys Who Understand the Nuances of Motorcycle Cases
If you or a family member was injured in a motorcycle crash anywhere in Montana, contact Edwards & Culver at (406) 215-4735 to learn how you can benefit from our experience.
Types of Motorcycle Accidents in Montana
There are several factors that play a part in the catastrophic nature of motorcycle accidents, including things like vehicle size, lack of protection, distracted driving, and more.
Our legal team serves the needs of clients in all types of motorcycle accidents, including:
Accidents along the I-90 or I-94 corridor
Collisions with drunk drivers
Motorcycle-related accidents in Billings, Great Falls, Missoula, and all across the state
Accidents that result in wrongful death
Out-of-state riders visiting Montana for one of our annual major bike rallies
Severe injury claims involving uninsured or underinsured motorist coverage
Accidents caused or aggravated by defective components or negligent repairs
If your accident was caused by the negligence or recklessness of another driver, then it is important to speak with an attorney as soon as possible. At Edwards & Culver, our team has extensive experience proving liability in motorcycle collisions and is equipped to fight for your maximum compensation.
Common Causes of Fatal Motorcycle Accidents
Although riding a motorcycle can be fun and entertaining, it is also a dangerous activity. A rider exposes him or herself to many risks, one of them being negligent drivers. Unfortunately, when a negligent driver collides with a motorcyclist, there are only a few protections offered, such as a helmet and protective clothing, which do not always prevent fatal injuries.
In order to understand how motorcycle accidents occur, it is essential to be aware of some of their common causes, which includes:
Sudden Turns into the Path of a Motorcyclist - this frequently happens when a driver fails to yield the right-of-way or misjudges the speed of an oncoming biker.
Head-On Collisions - such events could be the cause of various negligent activities, such as distracted driving, and is the most likely to result in fatalities.
Reckless Motorcyclists - these types of accidents typically occur when motorcyclists partake in actions such as lane splitting, riding under the influence, taking a corner too fast, or speeding.
When an individual is lost to a fatal motorcycle accident it is important to understand the cause. Further investigation could help establish responsibility for the crash, which may then be translated into legal liability. This could provide many answers to surviving family members of a deceased motorcyclist, and it may help pave the way for them to recover compensation through a wrongful death claim.
Common Motorcycle Accident Injuries
Motorcycle accidents can result in very serious injuries. Some of the most common, include:
Back Injuries
Brain Injuries
Broken Bones
Concussions
Head Injuries
Neck Injuries
Road Rash
Spinal Cord Injuries
If you or a loved one have suffered a serious injury due to the negligence of another driver, contact Edwards & Culver today to fight for the justice you deserve.
Call

(406) 215-4735

for Advice About Motorcycle Accident Claims
We at Edwards & Culver offer free consultations in all cases, and we only recover an attorney's fee if we're successful on your behalf. Our ability to advance the expenses necessary for the development and proof of complex liability and damages claims represents an additional benefit of working with our firm.
For additional information about our approach to client service in Montana motorcycle accident litigation, do not hesitate to contact us today at (406) 215-4735.